Kerr County
Bail Bonds
Lowest Fees Guaranteed
Open 24 Hours
Payment Plans
Bonds for All Texas Jails
Se Habla Español
What information do I need to start the bail bond process?
Full name and date of birth
Cause for Arrest
Arrest booking number
Name of the Jail or correctional institution.
How long will it take to for jail release?
AA Best Bail Bonds is open 24 hours day and staffed to complete and turn in all paper work as fast as possible.  From that point, it will be up to the specific jail and their release schedule and workload.
What Types of bonds do you offer?
All Felony Bail Bonds
Misdemeanor Bail Bonds
DWI Bail Bonds
Traffic Bail Bonds
Immigration Bail Bonds
Domestic Bail Bonds
Assult Bail Bonds
Drug Possession Bail Bonds
Have more questions?
Call us at 830-895-0966 or fill out the contact form below:

What if I don't have the money?
AA Best Bail Bonds offers payment plans for any budget and any credit. In almost all cases we can work something out and het your loved out of jail fast!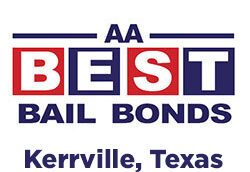 AA Best Bail Bonds has 22 Locations
San Antonio, Corpus Christi, Jourdanton, Boerne, Burnet, Cotulla, Bandera, Del Rio, Floresville, George West, Karnes, Hondo, Uvalde, Sinton, Alice and Kingsville.
Feel free to get in touch with our main office by phone or online to speak with a bail bond agent about how we can best help you quickly.
Bail Bond Dispatch Team: 830-895-0966
Discreet and confidential
Bonds for all Texas jails
Free notary service for paying customers
Se habla español
AA Best Bail Bonds services Kerrville and Kerr County